Government Publications & Information: Getting Started
The federal depository collection at DSC
Search GIL
http://gilfind.daltonstate.edu
Patrons can locate government documents housed in the library through GIL the library catalog. Click on GIL-Find image above.
Most government documents can be checked out with the exception of legal books, some statistical sources, magazines, maps, and microfiche.
FDLP Basic Collection
FDLP Basic Collection

The FDLP Basic Collection is a launching pad to core online Federal resources, including GPO's govinfo and the Catalog of U.S. Government Publications (CGP).
FDLP Libguides
FDLP LibGuides is a service provided by GPO for depository libraries and the public. Guides are created by LSCM staff on a variety of topics, including those requested by the FDLP community. All guides are available for free use. LSCM staff members review the site and make enhancements to the look and content on a continuous basis. Recent 'Hot Topics' guides include African American History and the Civil Rights Movement.
Locating documents in the Library
Government Documents are cataloged in GILFind the Library's Catalog. Many of the documents in the catalog have links to their online versions.
Government Documents are organized using the SuDoc (Superintendent of Documents) Classification System. Roberts Library receives approximately 25% of Depository items available. The GovDocs are located on the first floor in the east wing.

How SuDoc Numbers Work
A SuDoc number indicates the document's author (agency and/or sub-agency), and publication type (e. g., series or monograph) using letters, numbers, periods, slashes, and dashes.

Example of SuDoc numbers with each separate part broken down: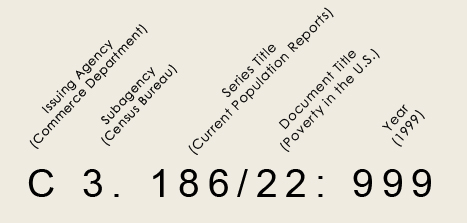 FDLP Academy Training Repository
The Repository contains archives of all FDLP Academy webinars and webcasts. Many of these are geared exclusively toward Federal depository library staff, however there are a variety of resources that patrons will also benefit from, such as Legislative Branch Resources 101, Your Guide to America's Finances, and Federal Student Aid.
SuDocs
SuDoc Agency Classifications
The first letters of a SuDoc number reflect the department or agency that issues the publication. The issuing agency is considered the author of a document:
SuDoc

Agency

A
C
D
E
ED
GA
HE
I
J
Ju
L
LC
NAS
S
SI
T
X, Y
Y4

Agriculture
Commerce
Defense
Energy
Education
Gen. Accounting Office
Health & Human Services
Interior
Justice
Judiciary
Labor
Library of Congress
NASA
State
Smithsonian Institution
Treasury
House & Senate
Congressional Committees