ENGL 2112 World Literature (Harrelson): Books
Call Numbers
There are many books available in the Roberts Library. You may search the catalog or browse the shelves upstairs on the 2nd floor.
Call Numbers:
PN - General & Comparative Literature
PQ - French, Italian, Spanish, Portuguese Literature
PR - English Literature
PS - American Literature
PT - German literature
Dutch literature
Flemish literature since 1830
Afrikaans literature
Scandinavian literature
Old Norse literature
Modern Icelandic literature
Faroese literature
Danish literature
Norwegian literature
Swedish literature
PZ - Fiction: Juvenile Literature
Library of Congress classification
The Roberts Library uses the Library of Congress classification system to arrange books on our shelves.
The first two lines describe the subject of the book. The third line often represents the author's last name. The last line represents the date of publication.
Tips for Finding Books on the Shelf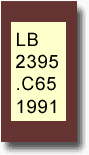 Read call numbers line by line.
LB
Read the first line in alphabetical order:
A, B, BF, C, D... L, LA, LB, LC, M, ML...
2395
Read the second line as a whole number:
1, 2, 3, 45, 100, 101, 1000, 2000, 2430...
.C65
The third line is a combination of a letter and numbers. Read the letter alphabetically. Read the number as a decimal, eg:
.C65 = .65 .C724 = .724
Some call numbers have more than one combination letter-number line.
1991
The last line is the year the book was published. Read in chronological order:
1985, 1991, 1992...
http://www.usg.edu/galileo/skills/unit03/libraries03_04.phtml